Find pallet rack safety clips and all other warehouse racking accessories at Unirak. These pallet rack locking clips are a vital safety feature in any warehouse because they secure your teardrop pallet rack beam-to-upright connection. Prevent disasters like injuries or damaged goods by securing your pallet racks. Contact us today.
Pallet Rack Safety Clips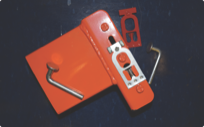 Pallet racking safety clips, also called beam locks, rack clips, or locking clips help secure your beams to the frame. Pallet rack clips enhance the safety of your racking system. Without them, the beam may become accidentally dislodged during normal loading and unloading operations and can cause the beam to collapse and pallets to fall.
Don't underestimate the importance of pallet rack safety clips, no matter what industry you're working in.
Pallet Rack Clips at Unirak
Our pallet rack safety clips attach to most standard teardrop style beams. Standard clips are factory installed and powder coated. Replacements are ZINC coated and in stock. You'll need two clips per beam.
They take seconds to install, and you'll have peace of mind knowing that you're preventing injuries and catastrophes in your warehouse.
All Your Pallet Rack Needs & Accessories
Unirak is your one-stop-shop for all your racking needs and accessories. Whether you're looking for beams, frames, storage system accessories, or beam add-ons, you'll find everything you need with us. We keep beams, racks, wire decks and common accessories in stock and ready to ship as soon as possible.
Want to optimize your storage space but not sure how? Our team of experts on the solutions team will work with you to design and install ways to make the most of your space.