Maximize storage space and safety with pallet rack accessories. We sell a wide variety of pallet rack accessories to help you customize your pallet racking setup. Whether you're looking for safety, organization, protection, or accessibility, we've got you covered. Learn more about the various pallet rack accessories available below or give us a call to learn more. We're proud to offer quick shipping options to help you get the items you need and get to work fast.
Pallet Racking Accessories for Any Need
We know that every business is different and so we offer a wide variety of pallet rack accessories. No matter what products you stock, we'll have something for you. Common accessories we sell include: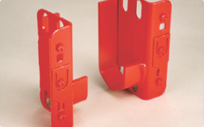 Reel holders: Designed for storing and dispensing spools of wires, cables, rope, and more. These come in pairs of two and accepts up to 1.75-inch diameter axles.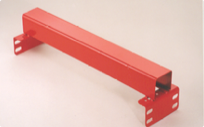 Fork entry bars: Place these bars on your beams to create a gap for forklift forks to slide underneath. Works best with pallets or flat items. You'll speed up your pick time and reduce damage to the product and racking system.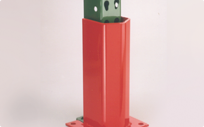 Post protectors: Install these on the bottom of your structure to minimize damage from forklifts and reduce the chance of collapse. Best in high-traffic areas.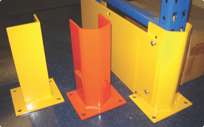 End of aisle guards: Reinforce the outward uprights with these protectors. One leg is long and allows ¼" thick steel to run the depth of upright for protection.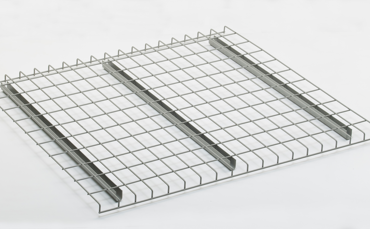 Wire mesh decks: Provide extra support for your pallets and products. 42" or 48" deep decks feature cut channel style while 24" and 36" are flared.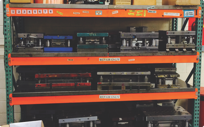 Solid steel decks: Great for storing heavy materials. 12 GA solid deck with tubular supports.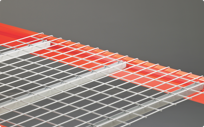 Wire rack back: Great for protecting nearby traffic areas. These are full steel mesh wire rack back or netting that work with pallet back stops.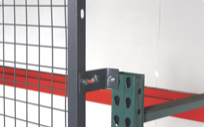 Net rack back: Similar to wire rack back, these prevent pallets from sliding backward off the racking.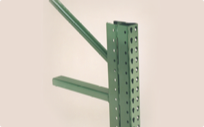 Double-Sided Uprights: Perfect for high traffic areas, at minimum 60' high. Impact protection and capacity gains.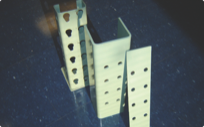 Heavy duty frame splice kits: For extending frame height. Features an outer wrap and inner splice matched pattern mounting plates.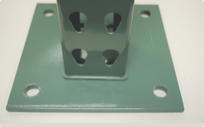 8"x8" by ⅜" base plates: For mounting your uprights into the cement floor. Useful in seismic areas and where tall height-to-depth ratios require additional anchoring.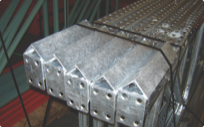 Welded Deflecto Guards: Protect posts from collisions. Available in bolt-on or welded in 4" to 60" height. 2.5"x2.5"x1/4" structural angle.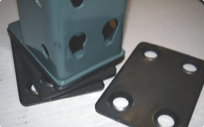 Nesting Shims/Foot Plates: To level your racks. Per RMI guidelines, rack frames must be plumb to achieve specified capacity. Anti-spin, ⅛" thick.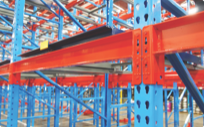 8" Heavy duty 4-rivet endplates: All S8650 beams feature 8' endplates but are also used for HD applications, some seismic and single beam level installs.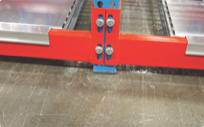 Infinitely adjustable endplates: Great for gravity pallet and carton flow to provide conveyor support where slopes vary.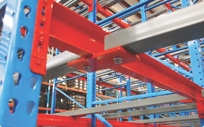 Alt beams in square or rectangle tube structural "C": We can manufacture to specification. Form heavy duty tubes or structural channel beams to light-duty hand stack small profile box beams.
All Your Pallet Racking Needs at Unirak Storage Systems
We're the pallet racking experts with the perfect racking solution for your needs. In addition to accessories, we also manufacture high-quality pallet rack frames, pallet rack cross bars, pallet rack uprights, and so much more. Need a pallet racking solution fast? We offer QuickShip for our most popular products, so you won't have to wait long to get the racking you're looking for. Get your free quote today to get started.