Heavy Duty Pallet Racking
If you're looking for pallet racking that can withstand the toughest conditions, you've come to the right place. Built in Taylor, Michigan, our pallet racking is 100% American made and ships worldwide. 
Whether you're looking for a whole new racking setup or just to replace parts of your existing system, we can supply you with the durable parts your business needs. Our single-deep racking is best for FIFO inventory systems. Contact us today to get your free quote.
Request your free same-day quote.
Industrial Pallet Racks from Unirak Storage Systems
Our pallet racking is tough enough for your hardest jobs. Weight capacity up to 37,800 pounds. Will hold up in demanding conditions like:
Freezers

Humidity

Heavy pallets

Forklift impacts

Extreme environments
Our beams have a teardrop design for maximum strength and durability. This also means it's compatible with most other products in the pallet racking industry. 
These are roll-formed industrial pallet racks. All parts are one-piece MIG welded with 55 KSI high-strength steel. We finish with a hi-gloss, abrasion-resistant powder coat paint. Available in hundreds of colors, we can match your brand color or other color preferences.
Unirak pallet racking is extremely versatile. Whatever you're storing, you can store it on Unirak pallet racks. There are endless configurations that can hold anything, including furniture, bulk items, irregularly-shaped items, and more.
Look no further than Unirak Storage System for all your pallet racking needs.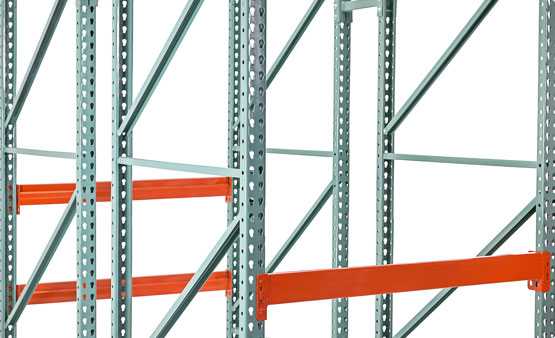 Pallet Rack Accessories to Make Your Racking More Durable
Keep your racking protected with accessories like:
Post protectors: Prevents forklifts from colliding with your frames

Back stop beams: Keeps items from falling out of the back of your racking

End of aisle guards: Keeps forklifts and equipment from hitting your racking

Wire or net rack back: Holds pallets in place and prevents them from sliding out backward
Get Your Delivery Fast With QuickShip
When you need a racking solution that's durable and has a quick delivery, order from Unirak for the fastest and most reliable products. We can ship pallet rack frames, beams, wire decking, and accessories almost immediately because we keep them on hand permanently.